25 alternatives to "How was school?"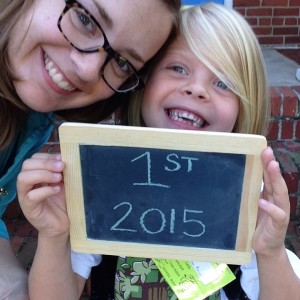 As I write this, my son is down the street at our neighborhood school experiencing his first day of first grade.
Part of me would love to use this space to talk about all of The Feelings I'm having about this new phase in my family's life, but I'll spare you. Instead I'd like to channel my motherly nervous energy* into something more productive for us all—you know, as opposed to shouting at all of you about how Father Time is a bastard and it really does goes so fast and how is my child so big how? HOW? HOW.
*sob*
Ahem. Anyway.
Now that our family has two years** of full-day of school under our collective belt, I know full well what to expect from my son when I pick him up this afternoon.
He'll hand me his backpack, climb into the backseat, and buckle up. As I steer the car out of the parking lot, I'll glance in the rear view mirror and ask him what parents all over the world ask their children every day:
How was school?
Well, at least that's what I would be doing if I hadn't already done some thinking before writing this post.
While my son will yammer on incessantly about Minecraft, Pokemon, his beta fish, and LEGO, when asked about the place where he spends almost half of his waking hours, he's all fines and goods and not much else.
It drives me batsh*t crazy.
In my son's defense, school typically is both fine and good for him—at least from what I gather during my conversations with teachers and other parents who have children more forthcoming than my own. But it's important for my husband and I to hear about how school is going from our kid's perspective. Secondhand accounts from (albeit caring and attentive) adults who aren't as privy to the workings of our almost seven-year-old's sensitive mind just won't cut it.
So this year, I'm switching things up. In preparation for the start of school, I've come up with a list of 25 alternatives to the standard How was school? inquiry. I won't run through this entire list every day with our son; just a few will do. It's my hope that his answers to these questions will enable us to celebrate his victories; to address challenges before they become issues; and to get a more complete understanding of who he is in his academic life.
1. What was your favorite part of the day?
2. What part of the day was boring?
3. What happened today that surprised you?
4. What happened today that made you laugh?
5. What happened today that made you sad or mad?
6. What were you really good at today?
7. What could you improve on tomorrow?
8. How did you get to be creative today?
9. Who did you see being helpful or kind today?
10. When and how were you helpful and kind today?
11. If you could sit next to anyone in your class, who would it be?
12. Who could you be kinder to in your class?
13. Who in your class could be kinder to you?
14. What phrase did your teacher say the most today?
15. If I called your teacher right now, what would s/he have to say about you?
16. What was the best thing your teacher did today?
17. How did your teacher show you s/he cares?
18. Who did you play with at recess and what did you do?
19. Who did you sit with at lunch and what did you talk about?
20. How did you feel when you walked into the classroom this morning?
21. How did you feel when it was time to pack up and go home?
22. What was the easiest thing you did in class?
23. What was was the hardest thing you did in class?
24. What was the most interesting thing you learned about today?
25. What would you like to learn about tomorrow?
Did I miss anything? Feel free to add your go-to questions in the comments!
*Imagine if someone could figure out how to harness the power behind the worry of mothers? We'd no longer have to look for alternative energy sources.
**Counting pre-K and kindergarten.