Favorite Baby Names
Let's go ahead and get something out of the way right now…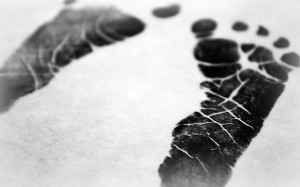 I am not pregnant. I don't plan on being pregnant any time soon.
But while I am not currently with child, I am currently (and always will be) obsessed with baby names. Boy names, girl names, name meanings, matching first names with middle names—I love it all and will yammer on about the topic as long as I have a captive audience.
And today, dear reader, that captive audience is YOU!
So here we go: my top 10 absolute favorite baby names* and why I love them. And who knows? Maybe a name featured below will end up being "The One" for those of you who actually do have babies on the way.
***
Ladies first…
Imogen
Say it out loud. See? It's cute but not cutesy—a name that will carry your daughter from childhood to adulthood beautifully.
Margaret
I've never met a Margaret (or Maggie or Meg) I didn't adore. And it means pearl! Why wouldn't you give your daughter a name suggesting she is a precious treasure?
Lynn
Yes, it's the middle name of about one gazillion girls born in the early 80s (myself included), but I encourage you to consider this sweet-but-strong one-syllabler for a first name. Pair it with a longer middle name (maybe even a unique family name that's just itching to be used) and you've got a winner.
Kate
Not Katherine. Just Kate. All class, no nonsense.
Everett
Traditionally a boy's name, but I think it works well for a girl. I love the combination of the strong V and T sounds, although there's always the option of softening things a bit by calling her Evie for short. The more I say it, the more I love it. Someone please give birth to a little girl right this minute and gift her with this name.
***
On to the gentlemen…
Ezra
It's kind of quirky but not so unique that it'll end up being a headache for the kid. And if you decide to call him Ez, then there is no way he won't be impossibly cool.
Lee
Why aren't there more little Lees running around? It's easy to spell and pronounce but not often used as a first name. Plus, there's something very solid and down-to-earth about the name. Lee sounds like someone who'd go out of his way to pick you up if your car broke down.
Benjamin
This is one of those rarer boy names that manages to be equal parts masculine and beautiful. It also offers great nickname options: Ben, Benny, and (my personal favorite) Benj.
Sebastian
As someone who grew up in the 80s and 90s, I admit it's hard for me to see that name and not think of the singing crab from The Little Mermaid. But when I'm able to put cartoon crustaceans aside and really listen to the name…it's pretty fantastic, in my opinion. Sebastian sounds smart. Sebastian sounds confident. Sebastian sounds noble.
Asher
It means "happy and blessed." What more could you wish for a little guy just starting out?
***
I'd love to hear about your favorite baby names–those you've used and those you've got in the queue for the future. Feel free to leave them in the comments!
*For now, anyway. Whenever a close friend has a baby (which is pretty much every other week during this season of my life) that child's name inevitably rockets to the top spot. So this list is very much subject to change.
(Image by Katelyn Kenderdine.)