The "did-do" list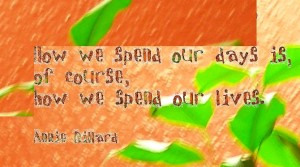 During the first few weeks of my son's life, I went to bed every night totally exhausted (shocking!) and totally disappointed in myself.
Even though the clock flipped through a full 16(ish) hours since I'd set foot out of bed, I felt I had very little to show for it by the time I got back in. The dishes were still in the sink. My inbox was still terrifying. The laundry was still piled up on the floor. My pajamas were still the ones I'd been meaning to change out of for the last two days.
How was I going to mother this baby while maintaining some semblance of the "getting things done" person I'd always been? Would I ever be productive and efficient again? A feeling of defeat was my constant companion as my to-do list flaunted its lack of check marks in my face.
Luckily, I quickly realized I needed to tell that to-do list where to stick it.
I'd just had a baby! In addition to recovering from giving birth to this child, the responsibility of keeping him nourished sat squarely on my very tired shoulders. Oh and I was also attempting to process how my body, my marriage, and my life were forever changed by this tiny person who pooped his pants and didn't even know his own name.
Enter: the "did-do" list.
Instead of spending time each morning listing what I hoped to accomplish that day, I started devoting a few minutes every evening to typing out the tasks I'd managed to complete. This simple flip of perspective turned out to be a total game-changer for me.
Because I'm a digital pack-rat, I still have one of my first did-do lists. It's dated December 2, 2008, when my son was exactly three weeks old. Here's what I got done that day…
1. Fed the baby.
2. Dressed the baby.
3. Took a shower.
4. Got dressed.
5. Ate breakfast.
6. Drove the husband to work.
7. Fed the baby.
8. Went to the bank.
9. Folded and put away a load of laundry.
10. Fed the baby.
11. Took the baby to the pediatrician (and arrived on time).
12. Fed the baby.
13. Ate a lunch that had both protein AND fruit.
14. Talked to the baby about his nose, eyes, and ears.
15. Responded to three emails (while feeding the baby).
16. Sent two emails (while still feeding the baby).
17. Sang "All the Single Ladies"* to the baby.
18. Fed the baby.
19. Took a nap with the baby.
20. Fed the baby.
21. Ate a snack.
22. Called the mechanic to schedule car maintenance.
23. Picked up the husband from work.
24. Fed the baby.
25. Ate dinner.
26. Bathed the baby.
27. Fed the baby.
28. Read the baby The Very Hungry Caterpillar before bed.
29. Soothed the screaming baby from 8:00 PM to 10:00 PM.
30. Fed the baby.
31. Wrote this list.
(You'll notice I didn't include diaper or outfit changes. I imagine I left those out because it would've depressed me to see how much time I spent cleaning up another person's digestive ooze.)
Is that a glamorous list of accomplishments? Heck no. But they were accomplishments all the same. Seeing what went into caring for my newborn baby not only made me cut myself some slack; it also helped me take pride in how I was spending my days. I finally understood the work of motherhood—the tiring, fun, repetitive, sweet, messy, life-giving work. And I was doing it. I was doing it really, really well.
*It was the only song soothed him in those early days. I make no apologies.
(Image: Erich Ferdinand quoting Annie Dillard)