Baby Basics: What You REALLY Need to Make the Best Baby Registry 
Becoming a new parent is overwhelming, and sometimes it seems like all the baby gear and gadgets we see make things MORE complicated rather than providing relief! As mamas ourselves, we've tried them all – while some seem silly, some baby products are non-negotiables! Here is a list of our favorite basics to give your baby the best start, and make your registry the best baby registry ever – and a few less useful items that you can skip.
THE NECESSITIES
Crib Sheets and Mattress Pads
Whether your little one will be in a crib, dock-a-tot, or pack and play, you'll need 2-3 sheets that fit their bed, along with a waterproof mattress pad.
Swaddling Blankets
Being swaddled makes babies feel like they're back in your safe, warm womb! You'll need a few swaddling blankets to keep your little one cozy (and it will help them to sleep better!).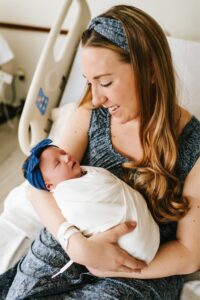 Baby Monitor
There are many, many baby monitors on the market! Do some research, read reviews, and choose one that is right for your family. This is one item on which you may want to splurge a bit because you'll likely keep using it well into the toddler years!
Burp Cloths
Babies spit up – it's pretty much unavoidable. Make sure you've got some handy burp cloths to keep messes at bay!
Nursing Pads
At least for the first few weeks of breastfeeding, you'll want to invest in some reusable breast pads. Breasts more often than not will leak, especially as your milk comes in and your supply adjusts to baby's needs. It's important to keep your nipples dry to keep infection away and prevent them from becoming raw and painful!
Diapers
Don't forget the diapers! This one nearly goes without saying – babies go through a LOT of diapers. However, there are a few things to know. Explore your diapering options before you buy: there are lots of ways to diaper a baby! Whether you choose the traditional disposables, organic disposables, cloth diapers, or something else, you'll want to do some research before baby is born to decide which diapers are right for you. Another important thing to remember is that most babies don't stay in newborn size diapers very long! In fact, may not need them all – so skip them altogether and go straight to size 1, or just grab a small pack or two.
Baby Wipes
This is another baby item that you may want to research before you buy! There are, again, many baby wipe options available. Some mamas prefer organic wipes, and some mamas skip them altogether and use a soft baby washcloth to clean baby's bum during diaper duty! Try a few varieties and find out what's right for you.
Diaper Rash Cream
Again, there are many options available to soothe your baby's bottom when it's sore! Do some research and ask family and friends what has worked best for them. You may need to try a few before you figure out what works best for your little one!
High Chair
It may not be on your radar as you begin your baby prep, but before you know it, you'll need a high chair! There are many options on the market, from standalone chairs to convenient seats that attach to your table! Whatever you choose, you'll get lots of use out of it as baby grows.
Bibs
Mealtimes can be quite messy with a little one! Not only that, but bibs can be useful during the teething days when drool seems to constantly cover baby's chin.
Baby Soap/Shampoo
Babies have delicate skin, and gentle soap and shampoo is a necessity to protect them from rashes, dry skin, and other breakouts. Choose a gentle soap and shampoo to keep your little one fresh, clean, and healthy.
Baby Lotion
Along the same lines, you'll want to find a gentle lotion for your little one. Again, baby skin can be super delicate and dry as they adjust to life outside the womb, so you'll need to have some baby lotion on hand to keep them comfy.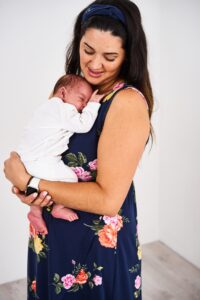 Baby Bath Towel & Wash Cloths
Chances are, your typical towels may be too rough for baby's sensitive skin. Invest in a baby bath towel or two, and a few soft, lightweight washcloths.
Infant Tylenol
From the first vaccines to teething to the occasional unfortunate illness, infants' Tylenol is a necessity for a new mama. It comes in a concentrated liquid with a dropper so you'll have your baby feeling better in no time!
Gentle Laundry Detergent
While it's not necessary to buy the expensively-branded baby detergents out there, choose a gentle, fragrance and dye-free detergent to launder your little one's clothing. Again, babies have very sensitive skin!
Baby Fingernail Clippers
Clipping those tiny nails is sure to be one of your least favorite baby care tasks! Make sure you've got some easy-to-use baby clippers to keep your little ones fingernails trimmed and tidy.
NoseFrida or Suction Bulb
Stuffy noses can mean trouble for a nursing newborn, and even for older babies! You'll want to have a NoseFrida, suction bulb, or other nose-clearing gadget to keep your little one breathing easy.
Baby Thermometer
It can be simple or high-tech, but either way you'll need a thermometer to take baby's temperature. Rectal thermometers are most recommended for accuracy, but there are less invasive options on the market as well. 
Diaper Bag
This one comes with a caveat! You don't have to choose a bag that is specifically made for diapers – any bag will do – but you will need something to tote your baby essentials around when you're out and about!
Car Seat
This one is a no-brainer – the hospital won't let you leave without one! However, there are so many options on the market, you'll want to take some time to choose the seat that's right for your family.
Stroller
Whether you keep it simple or go all out, you'll need a stroller for your outings! Do some research and decide on a price point based on the functions that are most important to you and your family.
Pacifiers
Although it's true that not all babies use them, you may want to consider having a few varieties of pacifiers on hand. Babies' sucking reflex is comforting to them, and sometimes a paci can soothe them to sleep or keep them happy on the go!
Breast Pump
Most, if not all, insurance companies will cover a breast pump for every new mama! Look into the options your plan will provide, and choose a breast pump that will best fit your lifestyle. For a work-from-home or stay-at-home mama, you may only need a simple, lightweight pump, but working mamas or exclusively pumping mamas will want one that packs a bit more of a punch!
Breastmilk Storage/Bottles
You'll need somewhere to store all the liquid gold you'll get when pumping! If you're a working mama, make sure to invest in some breastmilk storage bags or another form of milk storage that will be easy to keep in the freezer and on the go. If you don't think you'll pump too much, just a few bottles or bags will do! You may want to try different bottles out at first, to see which your baby prefers, so grab a few varieties before baby comes to make sure you've got one that's right for your little one!
"IT SURE WOULD BE NICE…"
It would be a stretch to call these necessities, but these products can be useful! You may want to consider these tier-two products as you're preparing for your new arrival.
Nursing Pillow
To make your nursing sessions a little comfier, you may want to invest in a nursing pillow. Designed to help support baby's weight and help mama maintain a healthy posture, there are many varieties available!
Diaper Pail
While it's true that dirty disposables can go into the regular trash, a pail specifically designed for smelly diapers can be a nice addition to your nursery! It will help keep the smells contained and give you a convenient place to put your dirty diapers. If you choose cloth diapers, you'll need a pail that works for the specific needs of your diapers.
Newborn to Toddler Tub
Can you live without it? Sure. But having a tiny tub can make bathtime much easier!
Cool Mist Humidifier
Avoid warm mist humidifiers that can harbor mold and bacteria, but investing in a cool mist humidifier can make the inevitable illness a bit easier to navigate.
Pack and Play
If you think you'll travel overnight with baby, you may want to find a lightweight, portable "pack and play" or crib to take with you!
Vibrating Bouncer
Not a necessity, but a vibrating bouncer can be a life-saver when it comes to calming a cranky baby!
Play Mat/Gym
While it is certainly possible to give baby an adequate amount of stimulation without a specific play mat or baby "gym," they can be super helpful! Typically designed with bright colors and stimulating patterns, a nice play mat can make tummy time and play time more pleasant for both you and baby.
"TREAT YOURSELF"
These items are great for convenience, and many mamas swear by them! But if you're a mama on a budget, you may want to keep these items at the bottom of your list.
Haakaa Passive Manual Pump
The Haakaa is a breast pump that suctions to your breast. It is most often used to catch your "letdown" when breastfeeding baby on the opposite side. That way, none of that precious breastmilk will go to waste!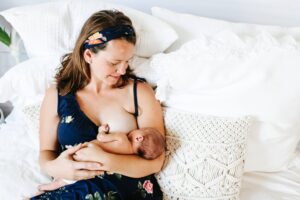 Adjustable Car Mirror
Keeping an eye on baby in the car without having to turn around or reach back blindly can relieve anxiety for mama and make driving with baby in the car a bit easier! 
Travel Changing Pad
When you're on the go, you never know when a diaper emergency will pop up! A travel changing pad will make it easy to change baby anywhere, and it will give you a nice clean surface to keep your precious little one safe.
Baby Carrier
Although it's not technically a necessity, we at Latched Mama could NOT live without our baby carriers! There are many different types of carriers, so do some research and find the option that is right for you. Babywearing can be life-changing as it keeps baby close while freeing up your hands!
Sophie the Giraffe
Possibly the world's most beloved teething toy, Sophie is a favorite of parents everywhere! Sophie soothes baby's sore gums and, as a bonus, is super cute.
Car Seat Protector
Another non-necessity that's nonetheless nice to have, a car seat protector will help keep your car in good condition, regardless of how many snacks are dropped from your little one's seat.
"SKIP IT"
These common baby registry items are, in our opinion, unnecessary! Skip them and focus your resources on the things you'll really need.
Changing Table
You'll change your baby on the bed, the floor, the sofa…and rarely the changing table. This piece of furniture is bulky and takes up way more space than it's worth.
Wipe Warmer
Although some mamas swear by them, most babies don't seem to mind the temperature of wet wipes. If your little one has a sensitive bum, simply holding the wipe between your hands for a moment before wiping baby will bring it to a temperature your baby will tolerate.
Crib Bedding Set
Skip the blankets, pillows, and bumpers! Experts have discovered that these items only lead to dangerous opportunities for suffocation. Skip the expensive set and opt for a few soft sheets and mattress protectors instead!
Baby Shoes
But they're soooooo cute! We know, but baby shoes top the list of unnecessary items. After all, it will be months before baby is walking! Not only that, but the shoes rarely will stay on and it's doubtful that they's very comfortable for those tiny toes.
This list should help you choose more wisely when it comes to preparing for your little one's arrival! Knowledge is power, and knowing what you really need as a new mama will make your time with your newborn even sweeter. Are there any go-to favorites we failed to mention? Let us know in the comments!