Tips for Surviving the Fourth Trimester
If you're newly postpartum or soon to be, I can almost guarantee your
Google search history is or will be filled with questions about how to do this w
hole "mom thing." From the color of your new baby's poo to how many
hours they should be sleeping, you'll constantly be looking for answers and
wondering what the heck you're doing! Motherhood comes with many wor
ries, and in the early days, we're all just trying to survive. That's why I'm
sharing my top tips for surviving the first months of motherhood, so you can
better navigate the fourth trimester, stay sane, and remind yourself that
you're never alone. At some point, every mom feels exactly as you do right now!
ASK FOR HELP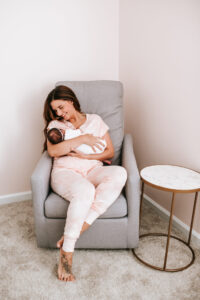 First, welcome to motherhood! It's the most worrying and rewarding thing
you'll ever do, and it's worth every second of what you might be going
through! Secondly, that does not mean you have to do it all alone; ask for
help and accept it when it's offered!
Trust me now when I say that little voice in your head that says "you can do
it all" and "asking for help is lazy" is a LIAR. This is something that I took
way too long to learn; raising a child takes a village, so use yours! I promise
you they're all always willing to help!
SLEEP WHEN THE BABY SLEEPS
Cliche, I know, but this might be the only time you get some good shut-eye
in those early days. So forget those dishes and the never-ending piles of
laundry and just SLEEP! This is your time to forget everything and snuggle
that baby — the rest of the world can and will wait.
PREP, PREP, PREP
Make your and your partner's life easier during early postpartum by being
prepared! Stock your freezer with pre-made meals and fill your pantry with
easy-to-grab snacks! Prepping meals before the baby comes will help reduce
your mental load and leave one less thing for you to do while you're recov
ering and getting to know your new babe!
MAKE TIME FOR YOURSELF
Becoming a mother can take a massive toll on a woman's sense of self. Go
ing from being solely responsible for yourself to nourishing a new baby can
be simultaneously amazing and isolating. It's easy to get wrapped up in
what it means to be a mother, to fit that mold and make it your whole iden
tity–but it doesn't have to be. Motherhood doesn't mean you have to lose
yourself; you can love your baby and still take time for yourself. If mother
hood has taught me anything, it's that my babies are what drives me; they
make me eager to pour into my cup so I can show up every day as the best
version of myself. So join that class or start that new hobby: invest in your
self, and remember, you're more than "just a mom!"
SHARE THE LOAD
Taking care of a baby can be exhausting, so share the load. Take turns and
delegate different tasks between yourself and your partner. Give each other
breaks during nighttime feeds or take shifts waking up with the baby! Com
municating a plan to tackle this new adventure together will keep you both
happy and sane!
GIVE YOURSELF GRACE
In the early days of motherhood, it's easy to get wrapped up in worrying; I
remember bringing my first baby home and thinking, "am I doing this right?!"
My mind ran a mile a minute, still not believing I was responsible for this
new life. Nobody really knows what they're doing–but you know your baby best,
so give yourself some grace. You'll figure it out along the way, and remem
ber you don't have to do it all! You don't have to do anything, for that mat
ter. Your only job right now is taking care of yourself and your baby!
So, congratulations, mama! You're doing great and you are the best mom for your
baby! Remember to take time for yourself, share the load, and give yourself
some grace! We're all just doing our best; the newborn stage goes by fast. D
on't miss it worrying.