How to Choose a Baby Carrier
There are so many different types of baby carriers available in the market, it can be overwhelming to try to choose which one will suit your lifestyle best! In this blog, we'll explore different types of baby carriers, their benefits and drawbacks, and their approximate costs to help you choose a baby carrier that is right for you and your little one.
Wrap Carriers
Wrap carriers are extremely versatile! They are great for newborns, as they keep the baby's body snugly wrapped close to your chest. A wrap carrier is also ideal for mamas who want to breastfeed on the go: baby can be easily pulled into position for nursing! While they can be complicated to put on, and they're not ideal for long periods of babywearing, wrap carriers are a great option for mamas of newborns. The Moby Wrap (approximately $50) and Boba Wrap (approximately $40) are two popula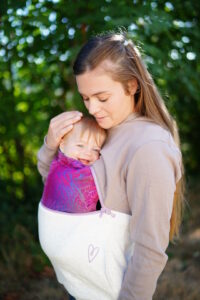 r wrap carriers.
Ring Slings
Ring slings are another great option for newborns, as they also provide a snug, comfortable fit. Unlike wrap carriers, ring slings are also very easy to put on, and can be adjusted quickly for different wearers. Ring slings work equally well for toddlers, infants, and even newborns. They are also excellent for discreet breastfeeding! While ring slings do not evenly distribute the weight of your baby, which can put some strain on the neck and shoulders, they are an easy-to-use and convenient option for little ones of all ages. Maya Wrap (approximately $80) and Sakura Bloom (approximately $90) are two of the top ring slings.
Soft Structured Carriers
Soft structured carriers (SSCs) are a popular choice for parents who want the convenience and closeness of a wrap, but in an easier-to-wear option. They are similar in style to a backpack and come with padded straps and waistbands for extra comfort. SSCs can be used for both infants and toddlers, and most models have adjustable panels to accommodate a growing child. They are also easy to put on and tend to have more support than a wrap or ring sling. While they can be bulky and take up more space, SSC's are comfortable and easy to use for mamas and babies of all sizes. Ergobaby (approximately $120) and Tula (approximately $139) are two of the most popular SSC brands.
Mei-Tais
Mei-Tai carriers are a traditional baby carrier, originating in Asia. They are similar to a wrap carrier but use a panel of fabric with straps that tie around the waist, shoulders, and back. Mei-Tais are popular because they can be used for both infants and toddlers, and they do not have buckles or snaps to adjust. However, because they are similar to wrap carriers, they take some practice to put on correctly! Mei-Tais can also be more expensive than other types of carriers, but they are a great, lightweight option for carrying babies of all ages. BabyHawk (approximately $90) and Fidella (approximately $130) are two of the more popular Mei-Tai brands.
Backpack carriers
Backpack carriers are ideal for parents who are more active and want to take their baby with them on a hike, nature walk, or other adventure! They come with adjustable straps, a waistbelt, and a sturdy frame to provide additional support. Backpack carriers are suitable for toddlers only, and are not recommended for babies under six months old. They are quite bulky and can be tricky to put on, but for active, outdoorsy mamas, backpack carriers are a great option! The Deuter Kid Comfort (approximately $240) and Osprey Poco (approximately $290) are two of the most popular backpack carriers.
Choosing the right baby carrier can be a challenge, but it is worth investing in one that suits both your baby's needs and your lifestyle. Wrap carriers and ring slings are the best options for newborns, while soft structured carriers and Mei-Tais are perfect for both infants and toddlers. Backpack carriers, while only meant for toddlers, are perfect for parents who want to explore the great outdoors with their little ones! Be sure to try on different models, and choose a baby carrier that is comfortable for you and baby, and will fit your budget and lifestyle. Whatever you choose, always read the instructions carefully and familiarize yourself with the carrier before wearing it with your baby! Investing in a high-quality carrier will keep you and your little one comfortable and happy, no matter where your adventures take you!
Looking for a way to keep yourself and baby cozy while you wear them out into the world? we have many pullovers and hoodies that are babywearing friendly! Don't know where to start? Our Harbor Snap Pullover is a great place to start! Its ultra-cozy fleece lining and longer length (to cover baby's feet!) make it the ultimate babywearing solution and will keep you and your little one cozy and cuddled all winter long.