6 Summer Hacks to Make Your Beach Days a Breeze
Going to the beach is a great way to get outside and enjoy the summer sun with your family, but with littles in tow, visiting the coast can be quite a production! We pulled together 6 of our favorite summer beach hacks, so you can focus on fun with your family and leave summer stress behind!
Bring an Inflatable Pool
If you've got babies and toddlers in tow, water play in the surf can be stressful! The dangers of the ocean are real, and a great way to avoid that with little ones is to bring an inexpensive inflatable pool to the beach! You can fill it up with ocean water and keep your kids close while they enjoy the water safely.
Don't Waste Money on Expensive Toys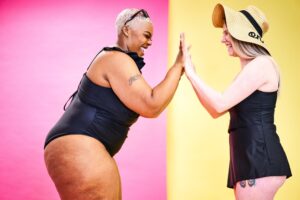 In my experience as a mom, we almost never leave the beach with all the toys we brought! Between the sand surf, toys inevitably get lost or broken. Buy your beach toys at the dollar store to save money! While you're there, grab a mesh laundry bag to store them–that will make cleanup a breeze and will help to reduce the amount of sand you bring home with you!
Skip the Ice
When you need to keep things cool, ice is the obvious go-to. But a little extra planning can make your day easier (and neater!). Freeze several water bottles the night before your beach trip and use them to keep your snacks and drinks cold! When they melt, the mess will be contained–and you'll have nice, cold water to drink!
Bring a Big Bucket
All those snacks, drinks, and sunscreens can create one big problem: trash! Make sure you bring some sort of trash container so that you can keep the beach clean. A great way to do this is to bring a 5-gallon bucket and line it with a trash bag! Throw a little sand in the bottom to keep the bag from blowing away and you can keep your mess contained!
A Fitted Sheet will be Your Friend
Beach blankets begone! Trust me: this fitted sheet trick will change your life. Bring a fitted sheet from home (we usually bring a queen size sheet for our family). Lay it "upside down" and weigh down each corner of the sheet with a heavy object like your beach bag, a bucket, or a small cooler–the sides of the sheet will stand up enough to create a barrier and limit the amount of sand that sneaks into your space!
Set a Sunscreen Timer
Sun safety is key! Determine how often you'll need to apply sunscreen and set alarms on your phone to remind you! You can also write the times on your sunscreen bottle with a Sharpie to make it easy to remember when it's time to reapply.
Beach trips can be a lot of work, but with these hacks you'll be able to spend more time playing in the sun and less time worrying! These are our six favorites but we know there is so much more mama wisdom out there: What's your favorite tip? Share in the comments!
---
Sources: