7.5 is the new 3.5 (and how I'm getting through it)
We've had kind of a rough summer so far.
I've always said three-and-a-half is the hardest age. Magda Pecsenye of the blog Ask Moxie put it best, in my opinion:
I say often that age 3.5 is the nadir of humanity, and I'm not actually joking. This age is demoralizing and confusing to the parent, because the child just can't get on top of their emotions and expectations. Every interaction has the potential to trigger a tantrum, and it feels like all your careful parenting work has become useless.
The drama. The whining. The drama. The stubbornness. The drama. Have I mentioned the drama?
Turns out I was wrong–at least when it comes to my kid. Seven-and-a-half is currently giving three-and-a-half a run for its money. It's all the drama but with more sensitivity, more criticism, and a bigger vocabulary.
I'm drinking a lot more wine these days.1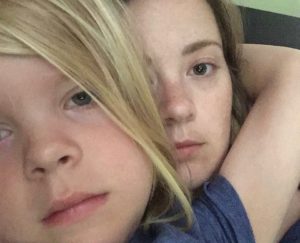 At first I attributed my son's…challenging disposition to all the upheaval we've dealt with over the last six months–schedule changes due to summer break, court dates, his dad changing jobs, and so on. And while our son was and is undoubtedly affected by those events, a recent experience on social media suggested that the cards we've been dealt this year aren't solely blame.
During a moment of peak frustration a couple weeks ago, I did what any parent in 2016 does: I aired my grievances on Facebook. To quote myself:
Fellow parents of 7-year-olds: AM I THE ONLY ONE ABOUT TO LOSE IT?! The drama. That know-it-all-ness. More with the drama.
Within minutes my post was filled with comments like "Right there with ya, sister!" and "I'm in the trenches with you."
Within that thread, a friend reminded me of a series of books by Louise Bates Ames and Carol Chase Harbor with the Gesell Institute of Child Development. The series offer a book dedicated to each year of a child's life,3 each called Your _______-Year-Old, followed by a telling subtitle, like: Your-One-Year-Old: Loving and Fussy; Your-Two-Year-Old: Terrible or Tender; Your-Three-Year-Old: Friend or Enemy; Your Four-Year-Old: Wild and Wonderful; and so on.
The one for my kid's age?
Your Seven-Year-Old: Life in a Minor Key.
Ha. Haha. Hahahahaha. So true. So validating. So life-giving, if I'm being honest.
The book description nails it, as well:
Although any seven-year-old will have moments of exuberance, security, and happiness, in general this is an age of introspection. As it begins, parents and teachers may welcome the quiet after the tussles and tangles of Six. But once the child of Seven starts to withdraw it's almost as though he doesn't know where or when to stop. Seven-year-olds feel picked on by family, friends, and teachers alike; they worry that no one likes them; they expect every little task to prove too difficult to handle; tears come easily at this age.
Yes! That! All. Of. That.
Our local library currently has a waiting list for this book, so until I can get my paws on it, I'm finding solace in how true that subtitle and description ring for my son and our family. And I'm keeping a record of the ridiculous exchanges that take place between me and my son. They aren't funny when they're happening, but they sure are when you see them written out.
Here are some of my "favorites"…
***
Scene: Our kitchen
Him: I'm hungry.
Me: You're welcome to get a snack.
Him: But I don't know what I want.
Me: Go check the pantry and see what's there.
Him: But I don't know what I want.
Me: Maybe seeing what we have will help you figure it out.
Him: I WILL NEVER FIGURE IT OUT. I AM NOT SMART.
::child flops to the floor, wails::
***
Scene: His bedroom
Me: I need you to settle down so we can read before you go to sleep.
Him: OR YOU'LL NEVER READ TO ME AGAIN?
Me:…what? No. That's not what I said, I–
Him: IF I DON'T SETTLE DOWN YOU'LL NEVER READ TO ME AGAIN.
Me: Nope. Not true.
Him: Yes.
Me: Nope.
Him: NOW YOU'RE MAD AT ME!
Me: I'm a little frustrated, but I think you're just tired. So let's settle down–
Him: OR YOU'LL NEVER READ TO ME AGAIN?!
::child flops to the floor, wails::
***
Scene: His bedroom, 20 minutes later
Me: Would you like me to sing you a song, baby?
Him: Yes, please.
Me: Which song would you like?
Him: I don't know.
Me: Ok, I'll just pick something then. How about–
Him: No, I want to pick.
Me: Oh, so you picked a song?
Him: No.
Me: Somewhere Over the Rainbow?
Him: Not that one.
Me: Down By the Bay?
Him: No.
Me: Honey, you've got to tell me what you'd like to hear. I'm not in your brain. I can't know what you want unless you tell me.
Him: BUT HOW CAN YOU NOT KNOW WHAT I DON'T KNOW? I AM ONLY SEVEN AND YOU'RE OLD!
::child flops to the floor, wails::
***
Scene: Our living room
Me: What did you do with Mamaw today?
Him: I don't know.
Mama: We went to the zoo and got lunch and then went to the pool.
Me: That's great. Hey, bud, can you go put those dirty socks upstairs?
Him: I NEVER GET TO DO ANYTHING FUN!
::child flops to the floor, wails::
***
Scene: The hallway at church
Me: So how was VBS? Did you–
::child flops to the floor, wails::
***
For you fellow parents of "Sevens," as Ames and Harbor calls them, those little vignettes probably felt all too familiar to you. But as you likely chuckled/groan with empathy, let me inform you of a supposed light at the end of our tunnel. Ames and Harbor chose this title for what we've got coming…
Your Eight-Year-Old: Lively and Outgoing.
We're gonna make it, you guys. And if not? Well…more wine, I guess?
1I'm kidding.2
2No I'm not.
3Through nine years old; ages 10 through 14 are clumped together.