6 Water Safety Tips for a Fun and Stress-Free Summer with Kids!
Summer is right around the corner and at Latched Mama, we absolutely cannot wait for the warm weather, sunshine, and summer activities with our families! But as a mom, I know that all this summer fun can also be stressful when it comes to making sure our children enjoy their summer safely. The summer worry that causes me the most stress is water safety. Every year I hear traumatic stories about children that had a water-related accident and every year I'm reminded that with all this fun in the sun, I want my children to be safe above all else.
I'm sure you can relate to that wish, which is why as summer approaches, I compiled 6 water safety tips you can implement this summer for safe, water fun.
1. Sign your little one up for swim lessons
If you haven't signed your child up for swim lessons yet, that should be the first thing you do this summer. Our children are constantly learning new things – how to cross the street, how they shouldn't talk to strangers, what they should do if they ever get separated from us in a public place – so learning how to swim should be no different. By enrolling your little one in formal swim lessons, your child will become more familiar with the water and will have foundational water safety skills in the event they are ever in unexpected danger.
2. Practice life jacket safety
Water safety goes beyond a pool and beach setting. If you take your children out on a boat for a warm, sunny summer day, or if your little ones are floating around on a tube in the open water, always have your children wear a properly fitted life jacket. Rough waves can come out of nowhere, or your child may get tired of paddling around in their float (and/or the float may begin to deflate), so it's always a safe practice to have everyone wear a U.S. Coast Guard-approved life jacket that is properly fitted. A water accident doesn't happen every day, but it's always better to be safe than sorry.
3. In public swim zones, know where your lifeguards are
As a parent, we're always paying attention to our children but even the most watchful parents can sometimes lose focus – we've all been there! Before your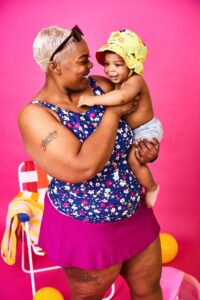 child goes swimming in a pool or at the beach, scope out where the public lifeguards are. It's always a good practice as a parent to have your children swim in designated areas supervised by lifeguards when in public swimming zones. It's the lifeguard's job to ensure everyone is safe in the water and with a lifeguard's eyes that is double the number of eyes on your little one.
4. Keep two barriers between your family and a pool
This tip is especially important if your children are not confident swimmers yet. No matter where you are where there is water, ensure that there are a minimum of two barriers between your child and any pools or hot tubs. Accidents happen and children can surprise us with how skillful they are with getting through gates and fences, so try to keep more than one barrier between your child and the water to give you peace of mind.
5. Never assume shallow water is safe
Even the shallowest water can pose a risk to your little one, especially if they aren't comfortable in a water setting. For instance, a small kiddie pool may seem safe, but if you leave a toy in a kiddie pool, a curious toddler may stumble over to grab that toy. What may seem like not much water to you, might be a lot to an unaware toddler. To avoid any accidents like this, always drain kiddie pools after your child is done playing in one.
6. Implement the buddy system
From an early age, try to teach your child that they should never swim alone. Even if the pool is public, there are tons of beachgoers on the sand, or there are countless family members around for a summer BBQ, always implement the buddy system. That way, beyond all these other safety measures we've listed, your child will have someone with them who can call for help if something goes awry. When it comes to water safety, you can never be too careful.
Children love splashing around and we love watching them have fun. With these six water safety tips, you can ensure that your whole family has a safe and splashy summer!
---
Sources:
https://www.redcross.org/about-us/news-and-events/news/2021/6-water-safety-tips-to-help-save-a-life-this-summer.html
https://www.vcuhealth.org/news/summer-safety-series-water-safety
https://www.parenting.com/toddler/water-safety-guide-wherever-you-play-summer/