Four Mouthwatering Meals to Please Your Picky Eaters
Deciding on dinner plans can be a frustrating task when you're a busy mama with a picky eater in the house! Don't worry, mama – it doesn't have to be that hard. Here are four of our favorite, easy meals that are guaranteed to please even the pickiest eaters!
Dump and Bake Chicken Alfredo Pasta Casserole
Indulge your little pasta lovers with a mouthwatering treat. The irresistible creaminess of alfredo sauce elevates this casserole to a whole new level of yum. Your family won't be able to resist asking for seconds of this filling dish!
Ingredients
16 oz package of rotini pasta
22 oz jar of alfredo sauce (or 1.5 15 oz jars)
2 c diced cooked chicken (rotisserie chicken works well!)
2 c shredded mozzarella cheese
Parmesan and other herbs (oregano, basil, etc.) to taste
Instructions
In a large baking dish, stir together uncooked pasta, alfredo sauce, chicken stock, chicken, and garlic
Cover tightly with aluminum foil and bake for 30 minutes
Uncover and stir. Check the pasta to see if it is properly cooked. If the pasta is still a bit hard, cook for another 10-15 minutes, until cooked al dente
Sprinkle mozzarella cheese over the top of the casserole and bake another 8-10 minutes, until the cheese is melted
Garnish with parmesan cheese and herbs of your choice
Credit: The Seasoned Mom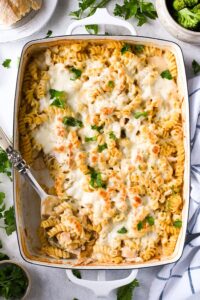 Cheesy Pizza Rolls
Pizza is an all-time favorite of kids and parents alike! These pizza rolls are not only delicious but are also easy to make and portable! They taste great whether hot, cold or room temperature, so if you're looking to add some excitement to your packed meals, then this recipe is the perfect place to start!
Ingredients
2 lbs pizza dough (store bought or homemade)
½ cup grated parmesan cheese
8 oz grated mozzarella cheese
Instructions
Flatten the dough on a lightly floured surface, to about a 12" x 18" rectangle
Spread the marinara sauce evenly over the dough
Sprinkle the cheese evenly over the sauce – parmesan first, then mozzarella
Roll up the dough, starting with the long side
Pinch the seam shut and slice the roll into about 12 pieces
Place on a lightly greased baking sheet and allow to rise for 20 minutes
Bake for 15 minutes, until golden brown
Credit: My Kitchen Escapades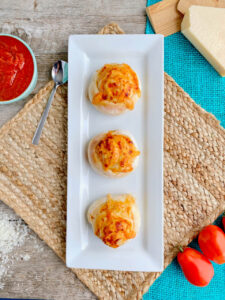 Crispy Parmesan – Ranch Chicken Tenders
Nothing beats a perfectly cooked chicken tender to satisfy a crowd! This simple recipe is a hit with both kids and adults. It's an excellent protein source and pleases even the pickiest palates!
Ingredients
¾ c grated parmesan cheese
1 package (1 oz) Hidden Valley Ranch dry ranch dressing mix
8 boneless, skinless chicken breasts, sliced into the desired size for chicken tenders
½ c melted butter (you may want a bit more)
Instructions
Grease a 13 x 9 baking dish
In a shallow dish,  mix together crushed corn flakes, parmesan cheese, black pepper, and ranch dressing mix
Place the melted butter in a separate, shallow dish
Coat each chicken piece with melted butter, then roll in cornflake mix
Place in baking dish and cook for 20-30 minutes, or until cooked through. Smaller tenders will need less cooking time!
Credit: Food.com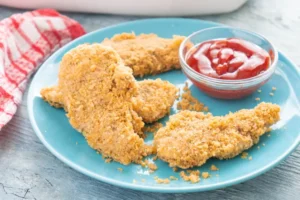 Easy Paella
If you're ready to switch up your dinnertime routine and explore new, international flavors, this easy paella is a simple and appetizing go-to dish that's ready in a snap! Although it may not be an authentic paella, it's perfect for introducing your family to something new, without overwhelming their taste buds.
Ingredients
Instructions
Add oil, garlic, and chorizo to a large frying pan and cook over medium-high heat for 1-2 minutes
Add chicken, rice, peas, smoked paprika, and 4 tbs water
Cook for 5-8 minutes, until rice is piping hot
Add 1-2 tbs water if needed
Credit: My Fussy Eater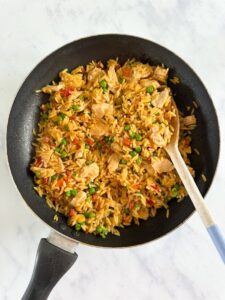 Simplify your evenings with these four easy, yet delicious recipes. Using basic ingredients your kids love, these dishes will keep your family's bellies satisfied and take the stress out of the dinnertime crunch. What's your go-to family meal? Let us know in the comments!