Back to School Prep: Tips and Tricks for Busy Moms
As the lazy days of summer come to an end, it's time to think about back to school prep! This is an exciting and hectic time for moms, especially those who have kids entering school for the first time! With a few tips and tricks, you can make the transition from summer to school year as smooth as possible for your family. In this blog, we'll share some tips and advice to help you prepare for the new year with as little stress as possible.
Establish a Routine
One of the best ways to prepare kids for the school year is to establish a routine. This can include setting a regular bedtime and wake-up time, scheduling meal times, and planning out activities. Getting back into a routine can take time, so it's best to start a few weeks before school begins to make the transition more natural. Start slowly integrating earlier bedtime routines and schedules so that when school starts, your family will be adjusted and ready to go!
Shop for School Supplies and Clothes
Shopping for school supplies and clothes can be the most fun part about back to school prep for kids and moms alike. Most schools send out a list of necessary items for the year to make school supply shopping a little easier. Don't forget to involve your kids in the shopping process to get them excited about the new year! Allowing them pick out items that reflect their personalities and interests can make this an outing they look forward to year after year. Start early, and keep your eye out for sales! Some states in the U.S. even have tax-free weekends in the weeks leading up to the start of school, to give parents a break on the cost of stocking up.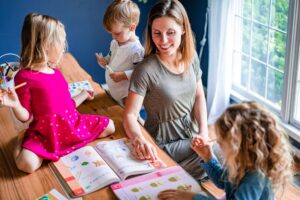 Designate a Study Space
Creating an designated school space at home can help your child stay focused and motivated when doing homework or studying. Consider setting up a designated area with in a quiet area, with supplies that are easily accessible. This will help keep your child's school work separate from other distractions in the home, and works for all ages: from kindergarten through high school, your family will love having a quiet space for their studies!
Talk to Your Child
Having an open conversation with your child about their feelings about going back to school can help you to understand and work through any anxieties they may have. The start of a new school year can bring stress even to the smallest scholars, but with your help they'll navigate the unknown like experienced pros! For older children, it can also be helpful to discuss any academic goals or extracurricular activities they are interested in pursuing, to give you a realistic picture of how the coming months will play out.
Take Care of Yourself
With all the back-to-school preparations, it's easy to forget to take care of yourself. Carve out some time for self-care, whether that means going for a walk, reading a book, or spending time with friends. The start of a new school year is a big transition for everyone – mamas included! When you take care of yourself, you'll be in a better position to guide your kids through the transition into the new school year.
As a mom, back to school prep can be overwhelming. However, with a little planning and preparation, you can make the transition from summer to school as smooth as possible for everyone! Establishing a routine, shopping for school supplies, creating an organized school space at home, having an open conversation with your child, and taking care of yourself can help ensure a successful back-to-school season.