Five Tips to Stay Stylish as a Busy Mom
Becoming a mom changes – well – EVERYTHING. Keeping your individual sense of fashion while juggling all the responsibilities of motherhood can seem impossible, especially when you find yourself covered in spit-up stains most days. But keeping your sense of individuality and feeling good in your skin is important to maintaining good mental health! Here are some easy tips for busy moms who want to stay stylish.
Make Your Hairstyle Fit Your Life
While there's no need to chop it all off, find a hairstyle that works with your hair's natural texture and your face shape without too much fuss. Choose a wash-and-go style you can easily maintain so you don't have to worry about having time to fix your hair! Don't forget to have some dry shampoo on hand so you can look just as fresh on the days when a wash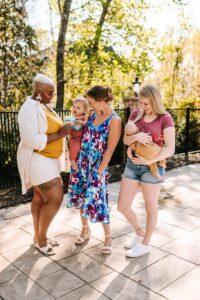 is not in the cards.
Find a Flattering Fit
When you find that one piece that works well for your body, buy multiples! You can style the same item in so many ways, you really only need to find one or two styles that work well for your body and fit your lifestyle. Check out our Boyfriend Nursing Tee, for example, which can be styled for casual days, date nights, or workwear, and comes in tons of colors and prints! V-neck tees not your thing? Our Ribbed Nursing Tank is great for layering and can be tucked into high-waisted pants for a chic, trendy look. Another great option is our Nursing Romper! All the style and ease of a dress – but it's pants! With pockets and nursing access, the Romper comes in a variety of colors and prints. Dress it up with sandals or wedges for work, or sport it with sneakers for everyday wear!
Don't forget your feet
Shoes really can make or break your outfit! Choose a couple of pairs – one for casual days and one for dressier occasions – that will be comfortable AND stylish. Love to wear sneakers? Find some fashionable pairs from your favorite brand that easily pair with your favorite casual 'fits. Not into heels? Find comfortable ballet flats or wedges that can spice up your workwear and date night outfits!
Do Your Nails
Having your nails done can boost your confidence and give you another way to express your unique fashion sense. Whether they're nude and buffed, press-ons, self-painted, or salon-perfect, taking care of your nails is a small but impactful way to feel better about yourself.
Quality Over Quantity
Invest in a few quality pieces that will stand up to mom life. It is better to have a few quality pieces that can be styled in different ways than a hundred pieces that fall apart.
Remember, being a mom is a demanding job, but taking care of yourself and feeling good in your own skin is essential for your well-being. Use these easy tips to be the most stylish mom on the block, even during the busiest days of motherhood!
——-
Sources: