My anti-mombie survival kit
Once upon a time–eight years ago, if you're counting–I was a glowing fairy princess. At least that's what it seems like when I look at old pictures. Such smooth skin. Such bright eyes. Such a defined jaw.
Back then, in addition to being in my 20s, I wasn't a mother. Sleep was bountiful, stress and worry were minimal, and I wasn't yet aware of the toll parenthood can take on one's face. Sure, I knew pregnancy and birth changed things below the neck, but no one told me I'd eventually end up looking like a zombie. Or, more specifically, a "mombie."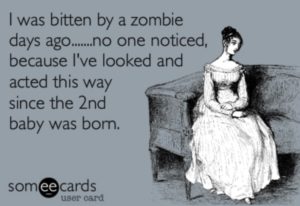 You've all seen them: dark circles under their eyes; creased skin; often a blank stare occupying their drawn faces. Heck, maybe you are one of them. If so, allow me to grunt in solidarity.
Uhhhnnnnnnnnnnn…
Even though my son is almost eight, sleeps reliably, and is relatively self-sufficient, I am still very much a mombie; we all know parenting doesn't stop just because a kid can fix his own bowl of cereal. But, since I've been at the motherhood thing for a while, I have managed to pull together a bag of tricks that help fight off the mombieness–or at least mask it long enough to last me until my next cup of coffee…or wine. Or wines.
So, here you go: the six items1 that make up my personal anti-zombie survival kit, all of which can be purchased from Target, Amazon, and/or your favorite drugstore.2
Neutrogena Hydro Boost Water Gel
Dry skin was never an issue for me before having a baby, but it seems like when they pulled that kid out, they pulled every ounce of moisture out of my body along with him. For several years I tried to find a daytime moisturizer that made me feel less craggy but also didn't make my acne-prone(ish) skin break out. And a couple months ago, via the recommendation of a friend, I finally found one. I kind of hate the word supple, but that's the only way to describe how this product leaves my skin feeling. I'm dewy, even! Also, it absorbs quickly and doesn't sort of sit on the surface of your skin like some moisturizers intended for dry skin. So on the days you actually can apply makeup, you can get right to it.
100% Pure: Organic Coffee Bean Caffeine Eye Cream
Why bother drinking caffeine why you can apply it DIRECTLY TO YOUR FACE? Honestly, I don't know how sound the science is with this product, but I do notice a reduction in puffiness and dark eye circles when I use it–plus it smells delicious. Because coffee.
Maybelline New York Dream Fresh BB Cream
I don't have the time or interest in spending a ton of time on makeup, so this beauty balm/moisturizer/foundation/SPF is my jam. It offers enough coverage to even out my skin tone but not so much that it gets cakey or covers up my freckles, which I've come to embrace with age.
Revlon Beauty Shapers Eyelash Curler
Confession: I only started curling my eye lashes because I read a People Magazine interview with Faith Hill in which she said she never leaves the house without curling hers. I'm a southern girl who grew up in the 90s; I do what Faith Hill says. But it really does make a difference, especially on those days when your eyes are looking a bit droopy. Just remember: curl first, then apply mascara, or you might not have any eye lashes left to curl.
NYX Eyebrow Cake Powder
Shortly after my son was born, my eyebrows started sprouting stark white, spindly hairs. I lack the fine motor skills to wield an eyebrow pencil, so I appreciate the buildable coverage this powder offers. Follow it up with a quick swipe of wax the keep my grandpa brows under control, and I'm good to go.
Cetaphil Moisturizing Lotion
You know the dad in My Big Fat Greek Wedding who thinks all ailments can be cured by Windex? Cetaphil is my Windex. When in doubt, I slather up in that stuff until I look like a seal, go to bed, and usually wakeup in better shape than when I went to sleep.
***
What about you? Any products, tips, or tricks I should add to my bag? Please share them in the comments!
1I am not being compensated in any way for sharing my love for these products. As if those folks care about my ramblings.
2I've included Amazon links here just to keep things easy for you, but purchase where you please!
(Front page image by David Williss; post image courtesy of someecards.com)