Four Easy DIY Crafts for Kids of All Ages
Looking for some fun and easy crafts projects to do with your kids? As moms ourselves, we know how important it is to keep little ones entertained and engaged, especially during the summer months. Crafting is a great way to spend quality time with your children while encouraging creativity and imagination. Plus, it's an excellent way to unplug from technology and spend some screen-free time together! In this blog post, we'll share four easy crafts that are perfect kids of all ages. Gather your supplies and let's get crafting!
DIY Clay Handprints
There's nothing cuter than a pudgy toddler handprint, and this kid-friendly craft project is a great way to create lasting memories! Start by making homemade clay using common kitchen ingredients. Roll out the clay and help your child press their handprint into it. Once the clay has dried, your little one can paint it with their favorite colors.  Depending on their age, finger paints, watercolors, or other non-toxic paints will be the perfect way for your child to put their own finishing touch on the project. This craft is super easy and fun, and a perfect way for toddlers and preschoolers to get creative.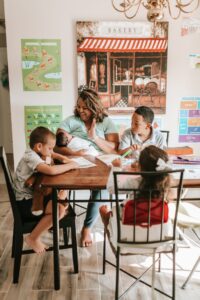 Colorful Paper Chains
This classic craft project is perfect for kids of all ages, and a great way to include your little ones in decorating for parties, holidays, or any other occasion. Simply cut strips of colorful construction paper and glue or staple the ends together to create a chain. Your child can experiment with different color combinations and patterns, and make the chain as long as they like! This simple craft project is perfect for rainy days or as a fun group activity for a birthday party.
DIY Bird Feeder
Help your child create their very own bird feeder using materials you already have around the house! Start by cutting a hole in a milk carton or juice box. You can paint it for a little extra fun, or leave it as-is! Fill it with birdseed and use a piece of string to hang it from a tree branch. Your little ones will love watching the birds come to their feeder and snack on their delicious treats.
Personalized Pencil Holders
For older kids, a personalized pencil holder is a fun way to spice up their study space. Start with a plain ceramic cup or mason jar. Use paint, stickers, glitter, markers, or whatever your child chooses to decorate it with their favorite colors and patterns! This is a great project for kids who love to express their creativity and personalize their belongings.
Craft projects are a fun and easy way to spend quality time with your children while encouraging creativity and imagination. These four simple DIY craft projects are perfect for kids of all ages and can be done with materials you already have at home! From DIY clay handprints to personalized pencil holders, there's something for every child to enjoy – and the best part is that you'll create lasting memories with your little ones that they'll cherish for years to come.