Athlete Forced To Choose Between Olympic Games or Being a Breastfeeding Mom
It is every professional athlete's dream to potentially represent their country in the most prominent sporting event in the world- the Olympics. And like most dreams, it does not come without hard work, dedication, and sacrifice.
These concepts are no stranger to Canadian basketball player Kim Gaucher, who has been playing with the senior women's national team since 2001. Thanks to decades of hard work and dedication, Gaucher has finally reached what is potentially the pinnacle of her career: an invitation to the 2021 Olympic Games, set to take place this summer in Tokyo. And while hard work and dedication are concepts that came without any hesitation to Gaucher, there is one thing that she is NOT willing to sacrifice. Her ability to breastfeed her 3-month-old daughter.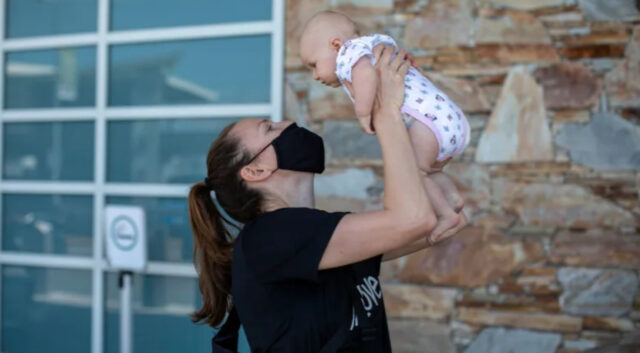 "Right now, I'm being forced to decide between being a breastfeeding mom or an Olympic athlete. I can't have them both," said Gaucher. "Tokyo has said no friends, no family, no exceptions."
These tight new restrictions are the result of the COVID-19 pandemic.
"The Tokyo Olympic Games are understandably being conducted with an unprecedented focus on health and safety," The International Olympic Committee told CBC News. "This includes Japanese borders being closed to overseas visitors, family and friends."
Regardless, Gaucher said that she still held out hope that she would be granted an exception, citing she was led to believe she'd be allowed to bring her husband and daughter to the team's pre-Olympics host city of Kariya City, Japan.
This hope, however, was soon shattered.
On Friday, the organizing committee said in a statement to CBC News that it was "basically decided" that family and friends would be barred from the Olympic games.
Feeling desperate to find a solution, Gaucher took to social media as a last-ditch attempt to raise awareness about her predicament and potentially be granted an exception.
View this post on Instagram
"Players and media are all flying in from around the world, Japanese fans are going to be in attendance, the arenas are going to be half full," Gaucher said ins the self-filmed video. "But I will not have access to my daughter."
According to CBC News, the National Olympic Committees have been dealing with requests from athletes to bring their children on a case-by-case basis. Nevertheless, Gaucher still has not gotten the green light to bring her 3-month-old infant to the 28-day event.
"We've tried appeals. Everyone says they're on board, but nobody can do anything," said Gaucher. "I need the help of the internet. If anybody knows anybody, anything; let's see if we can make a difference. It's 2021. Let's make working moms normal."