Social Media Star Shamed For Exhibiting NORMAL Motherhood Behavior
In recent years, it has become widely available knowledge that breastfeeding your child for any amount of time provides them with some pretty amazing health advantages. These benefits include the transmission of ultra-valuable antibodies, which provide your child with top-notch protection against viruses, pathogens, certain cancers, diabetes, and SO much more.
However- these benefits DON'T expire after a certain age. In fact, it is recommended by the World Health Organization that mothers who are able to breastfeed for 2+ years can and should be ENCOURAGED to do so!
But some people seem to think that when you throw more than one child into the mix, the benefits of breastfeeding somehow become obsolete.
Case and point: Laura Clery. This social media star, best known for her comedic content on Instagram, Youtube, Tiktok, Facebook, and more, was recently placed under harsh scrutiny for simply doing what she (and science!) believes to be best for HER family. 
Clery, a mother of two, recently gave birth to her second child, Penelope. Upon her initial announcement of little Penelope's arrival, her fans and followers seemed to be overjoyed with the new addition to the Clery clan. However, soon after, this excitement soon faded into uncertainty. But why?
Well, to put it simply: because Cleary shared an ultra-cute, extremely natural video of her tandem feeding both newborn baby Penelope and her two-year-old son, Alfie.
View this post on Instagram
Adorable, right? Well, unfortunately, not everyone seemed to think so.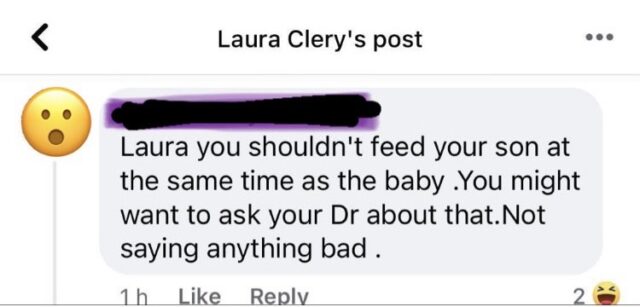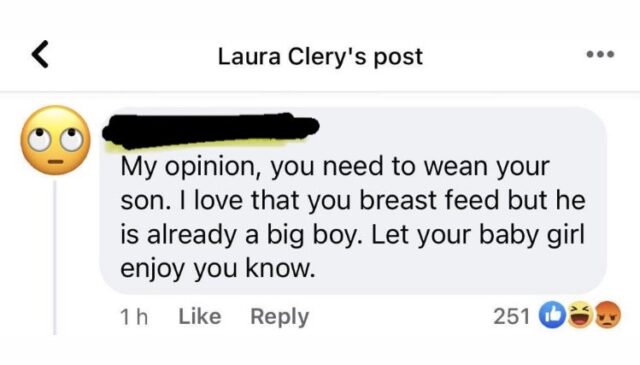 So why the backlash? What is it about breastfeeding TWO babies that suddenly has the internet so divided? 
We here at Latched Mama are passionate about providing people with the most accurate and up-to-date information on ALL things breastfeeding, so let's chat about tandem nursing, why it's beneficial, and how we as a society can begin to destigmatize this totally normal mother (and toddler!) behavior. 
First of all, what is tandem nursing?
Tandem nursing is the act of feeding two children at one time. This pertains to twins, nursing an infant and a toddler, or even a toddler and an older child at the same time! 
What are the benefits?
Tandem nursing includes ALL the same benefits of breastfeeding a single child- times two! 
The PHYSICAL benefits of tandem nursing include (but are not limited to) 
Can help support a hearty milk supply

May help manage a forceful letdown

Allows the older child to continue receiving all the health benefits of breastmilk
The EMOTIONAL benefits of tandem nursing include (but are not limited to)
Help the older child bond with his or her new sibling

Relieve feelings of insecurity or instability in the older child after bringing home a new baby

Encourages sibling bonding

Allows the mother to bond with her newborn without feeling as though her toddler is being left out.
Is tandem nursing new?
Nope! There seems to be this idea that tandem nursing is just for ultra-crunchy, new-age moms. But the truth is, tandem nursing isn't anything new! Don't believe me? Then check this photograph of an Inuit woman known as "Mickaninies Kow-Kow" tandem nursing an infant and toddler- circa 1908. Incredible!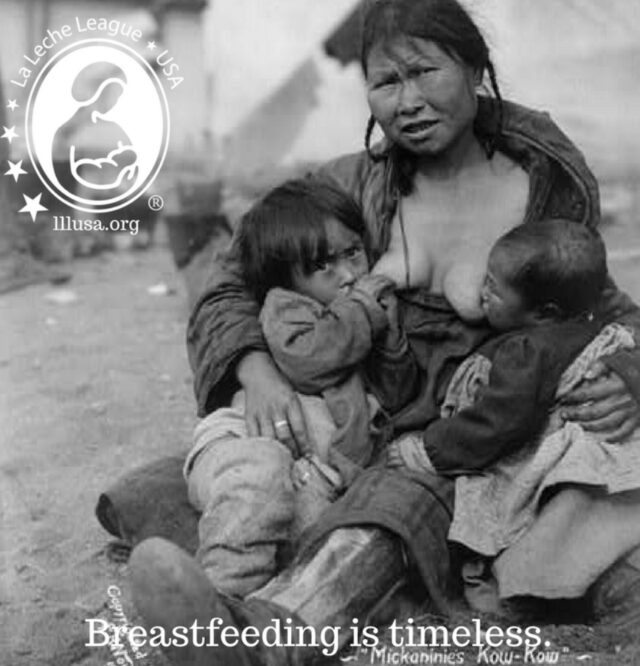 Is tandem nursing for everyone? 
No! And that is okay! The beauty of motherhood is that it is an art- not an exact science. We all create the realities of what our family dynamics will look like through freedom of expression- and by shaming mothers for doing what's right for them, we're only opening the door to more scrutiny in EVERY aspect of motherhood. Something that I think we can all agree that NONE of us need.
So whether you tandem nurse twins, weaned your older children during each pregnancy, tandem nursed for four years, or breastfed for four weeks- whatever decision you make for YOUR family is valid, victorious, and worthy of support. Period.