5 Simple Kiddie Pool Hacks To Try This Summer
Oh, the kiddie pool, every mom's favorite summer companion. Not only are they cheap and convenient, but they also provide your kids with hours of fuss-free fun. In fact, they're so effective at keeping your kids entertained that you might even find a moment to *gasp* relax and unwind!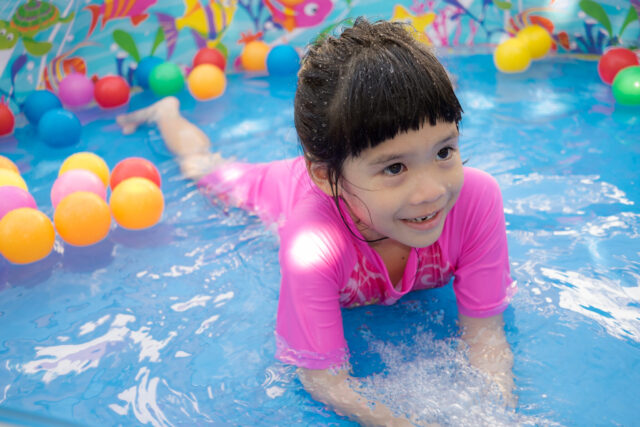 But if your brood needs a break from splashing, or perhaps it's a rainy day, and they're rambunctious inside, here are 5 easy kiddie pool hacks to help make your summer a breeze!
Ball Pit
Indoors or outside, empty or full of water, adding balls (like those found in ball pits) are a great way to put a fun spin on your kid's favorite summer activity. Such balls are available for purchase at places like Target and Amazon (not an affiliate link!) and are perfect for inside pool time on rainy days
Foam Party
What kid doesn't like bubbles? To really step up your summer game and multi-task like a freaking boss, try adding some bubble bath to your baby pool and turn it into a fun-in-the-sun foam party! Want to really get wild? Toss in the balls from hack #1 for the ultimate mom-win.
Bonus: consider bath time done.
Bubble Vat
Speaking of bubbles, try skipping the water and filling your kiddie pool with a strong bubble solution to create a giant bubble vat and, therefore, giant bubbles! Grab some hula hoops for your participants and get ready for some outstanding bubbles!
Sandbox
Listen carefully, mama. You do not have to buy a separate sandbox for your kids- you already have one! If you're ready to transition your outdoor activities to fall, or just want to mix things up with some sensory play, baby pools serve as the perfect frame for a DIY sandbox. Just fill with sand, toss in some beach toys, and call it done!
Critter Pit
This hack is definitely extra credit territory but is so dang fun. Fill your (emptied) baby pool with some dirt and hide some plastic creepy-crawlies throughout the layers of soil. Then give your kids some shovels, nets, magnifying glasses, and buckets and let them get to work on uncovering all the slithering and slimy surprises within!