5 Simple Mother's Day Brunch Ideas To Share With Your Family
With Mother's Day right around the corner, now is the perfect time to start dropping hints about how you wish to spend your special day. Although dining at your favorite brunch spot might still be off-limits, there are plenty of sophisticated DIY brunch recipes that are still worthy of wearing your Sunday best; and easy enough for your family to pull off!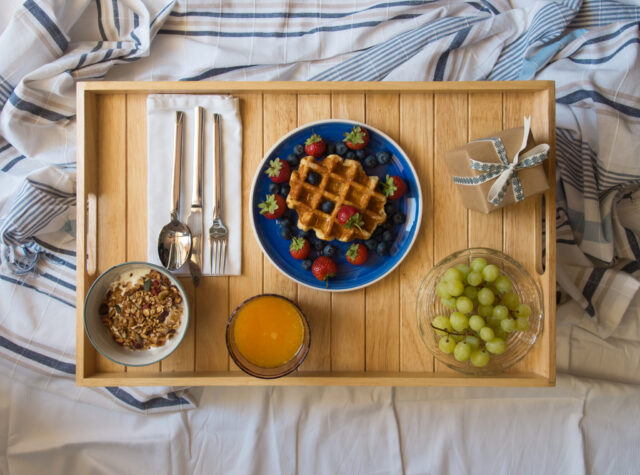 If you have a waffle maker, or better yet, a mini waffle maker, then this is the recipe for you! Because there are no ovens or stoves involved, this decadent dish is incredibly straightforward and child-friendly to prepare. All your family will need is a roll of slice-and-bake cinnamon rolls and a waffle maker! Dessert for breakfast? Mama, you deserve it!
Mother's Day is the perfect opportunity to try this trending TikTok breakfast delight! The recipe is just as straightforward as average pancakes- but with a twist. Instead of making several large pancakes, pancake cereal is comprised of dozens of miniature pancakes. Be sure to ask for it to be served in a bowl, blanketed with syrup. Don't forget your spoon!
Egg bakes are fantastic because they're so forgiving. Even the most amateur cook can pull off a good, hearty egg bake, which makes them the perfect dish for your kids to prep! Although they will need help operating the oven, your children will have a blast combining different ingredients and smothering their savory creation with cheese. Best of all? There's almost no clean up involved! But then again, you won't be the one loading the dishwasher anyway. 
With no cooking required, these breakfast parfaits are the perfect brunch entree for your little chefs to whip up effortlessly. Best of all? You probably already have most of the ingredients needed on-hand! Although this specific recipe calls for blackberries, bananas, and granola, you can use any fruit, nut, spice, and sweetener combination you desire to make it a truly customizable Mother's Day treat. 
No Mother's Day brunch is complete without a classy drink! Bust out the fancy glassware and prepare to cheers your family with this alcohol-free Baby Bellini mocktail recipe. With only two ingredients, it's almost as easy as pouring a glass of OJ. Best of all? You can easily incorporate prosecco into your glass if you're feeling a little extra. No judgment, mama! It's your day.