Self Care Is For Everyone! Treat Your Kids To A DIY Spa Day
The stress of social distancing isn't limited to just adults- our littlest members of society are craving a little extra TLC right now too! Although services like hairdressers, nail salons and massage therapists are currently off-limits, you don't have to wait until the quarantine is over to treat your kids to a serene spa-like experience. That's why we LOVE Project Nursery's blueprints for creating a perfect at-home spa day full of primping and pampering.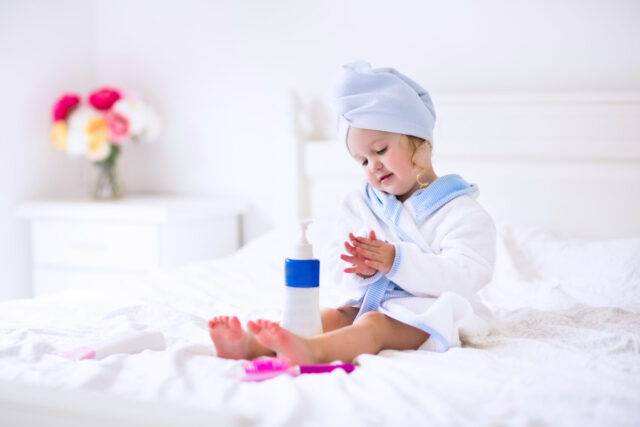 To make this experience as realistic as possible, you'll have to put in a little bit of prep to set the scene. Make and hang signage for your kids welcoming them to the spa, and instructing them on how to navigate their rejuvenating experience. Light some aromatherapy candles or scented wax warmers, dim the lights and create an ultra-zen ambiance by playing calming music or guided meditation tracks.
Next, stage a dining area as an after-spa refreshment station where you can serve soothing herbal teas or fun fruit-infused water. Also, consider adding finger foods for a little afternoon nosh. If you want to get really fancy with it, you can even print out little menus from which your children can order.   
But of course, no spa is complete without its luxurious services. Pedicures, face masks, relaxing bath soaks, and massages are all simple and affordable ways to give your kids a true spa-like experience. Consider creating a spa menu highlighting your services and let them select what they're in the mood for. Serve bubbly drinks to sip while you polish their toes. Put epsom salt and kid-friendly essential oils in their bathwater. The more effort you put into making it feel realistic, the more you'll engage their imagination.
Sound a little over-the-top? That's the whole point! This isn't just about helping your kids relax and unwind, it's about breaking up the monotony of life at home. So go all out, be a little extra, and have some fun creating a cozy day spa from the comfort of your own home. After all, when it's all said and done, there is a good chance your kids will be eager to keep playing spa and return the favor. And Lord knows mama needs a massage too!