5 Easy Crockpot Meals For The Mama Who Just Can't Right Now
(Disclaimer: Dad's can totally make these too)
As families are understandably scrambling to find a new normal, parents are working from home, kids are grappling with the constraints of isolation, and moms (or dads) are trying to find the energy to put 3 meals on the table every day.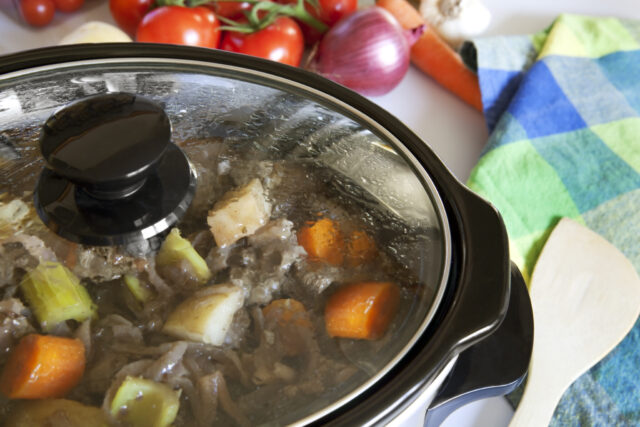 I get it. One day you're coasting on cereal, a school-provided lunch, and a nice dinner out with your family; and next thing you know, stores are sold out of your staple foods and your kids are surviving on snacks for breakfast, lunch and dinner.
While some people love to cook and maybe using this time to play with their culinary creativity, most of us are just trying to survive the neverending todo list of household chores (they multiply when everyone is home), self-schooling and adapting to a home office environment.
So take a load off, mama. You don't have to provide a gourmet entree for every meal- or ever. but if you want to provide some crowd-pleasing dishes for your family with more nutritional value than a goldfish cracker, here are 5 easy crockpot meals for when you hardly have a damn left to give.
This dish is everything you need right now. Easy, filling, inexpensive, delicious, and nutritious. You can adjust the spice level to your family's preference and serve with a side of rice or any grain of your choice.
Pro tip: be sure to soak your dried beans for several hours before cooking to reduce gassiness.
This simple, slow-cooked roast is often referred to as "the best roast in the world" and for a good reason. This dish is full of flavor and is simple to make, using basic ingredients that require little to no prep.
If you have a vegetarian in the family or are simply craving some ethnic flavor (I know I'm especially missing my local Indian food buffet right now!) this is the dish for you. Lentils are a great source of protein, are affordable, and are often sold in bulk, making them a great essential for stocking up your pantry.
This dish is the ultimate comfort food and is guaranteed to leave no leftovers, which means less work for you. The best part? It's only 4 ingredients, making it the perfect minimalist meal that everyone will love.
This soup is one of my favorites because I don't find it too heavy to eat in the warmer months. This zesty dish will be sure to lift everyone's spirits, is a good way to sneak in some vegetables and only costs 1.63 per serving!