My Breastfed One-Year-Old is Not into Solids
As my child's first birthday approached, our family and friends excitedly asked if we were going to do a smash cake. I smiled and said we were going to give her a chocolate cupcake, but I expected she would barely touch it and certainly wouldn't eat it. The thing a lot of people didn't know was that our baby was still rejecting solid food. She had only swallowed a handful of bites since introducing solids months ago, despite my persistent offering, and I was at my wit's end.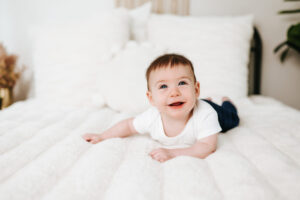 To give you some background, I had chosen to exclusively breastfeed my baby. I didn't use bottles and she fed on demand. The first time we offered my daughter solids was when she was six months old. She had been reaching for food, showed interest in our meals, and hit all the milestones for being ready for solids. I gave her a banana and as she tasted it, she burst into tears and screamed at the top of her lungs. This was not quite what I had expected, but I figured it was a new experience and would simply take some getting used to. What I wasn't prepared for, was that this rejection of food would continue until after she turned one year old.  
As my daughter hit nine months, she was still crying whenever I offered her food. She honestly screeched like I was trying to poison her. We tried every approach we could think of. Purees made in 20 different ways. Lumps. No lumps. Finger foods. Different textures. Different flavors. We tried spoon feeding and letting her feed herself. We were careful not to "force feed" her but let her lead the way and respected her choice to eat or not eat. We had her eat in a highchair, on my lap, and on her dad's lap. I tried feeding her right after she had milk and right before. We offered food multiple times a day. NOTHING WORKED.
At that point, we talked to our pediatrician and ruled out any medical problems. My baby was thriving and in the 80th percentile for weight. She was drowning in adorable fat rolls. Our pediatrician reassured us that some babies just take a while. But as I watched many of my friend's babies eat full meals, I wondered if I was doing something wrong.
My anxiety around my baby's mealtimes was growing (which I am sure she could sense, only making things worse). I was also feeling increasingly frustrated at my lack of freedom – I had to be present for every meal and every snack to feed our baby because in addition to rejecting solids she also refused to take a bottle. The demands on my body as I provided 100% of my baby's calories day after day resulted in major exhaustion. I was completely depleted.  
At about ten months, my baby stopped crying when food was put on her plate and started to take small bites. However, after swirling the food around her mouth a bit, she spit it out. Every. Single. Time. 
I scoured the internet and had a hard time finding any data or stories about people having this similar struggle. So, I started to ask around quite a bit with other moms I met at the park to see if anyone else was struggling with this. While I was met with a lot of blank stares, I finally found a few moms who nodded along knowingly and said their babies just weren't that interested in solids either until about the one year mark.
This is completely anecdotal, but what I found was that those having similar issues also had chosen to exclusively breastfeed with very limited use of bottles. Who knows if there is any correlation, but for me, it made all the difference to just know other people had also struggled with this.
Some of the best advice I got from another mom was to remember that I am only responsible for offering food. It is up to my baby to choose what and how much to eat. That really helped take some of the pressure off. 
A few days after my daughter turned one, I looked over one day and her plate was empty. I assumed she had hidden all the food under her butt (which she loved to do) or thrown it on the floor, but shockingly it was gone.  Almost overnight, and rather unceremoniously, she had decided she liked to eat food. I could not believe how quickly she went from eating nothing to eating an entire banana in one meal.
Now that our daughter is almost 15 months old, she eats all varieties and textures of food excitedly. In fact, she almost out-eats her 3-year-old sister.
I wanted to share my story in hopes that I can help another parent going through this. I wasted a lot of time worrying about something I had no control over.  What I experienced was certainly not common, but it turned out to be a normal, healthy progression for my baby. If you are going through this same experience you should check with your pediatrician to rule out any medical issues, but once that is all clear, then simply trust that they will progress, grow, change, and learn. Like walking, talking, getting teeth, and motor skills, they will do it all in their own time and the range of normal can be quite wide.
There is light at the end of the tunnel. The other day I actually left her with her dad for 12 hours and she didn't starve! She ate solid food happily all day long – but she was still relieved when I got home and she could have her milk, which is still her favorite food.