Breastfeeding-Positive New Year Resolutions (That Don't Involve Losing Weight!)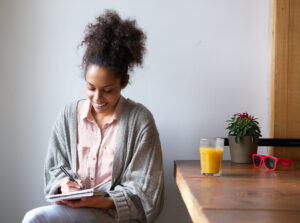 It's that time of year when everyone is posting about treating their bodies differently from the year before, finally going to the gym, and all the weight talk that surrounds January. It can be a really hard time of year when your body has grown a baby and you are feeding that baby with your body, because so many people don't understand what goes into all that work that your body is doing around the clock. 
Firstly, your body is doing an amazing job. Losing weight isn't a thing you need to be thinking about right now as you feed your baby (or ever, frankly; your body is great, period, and the cult of weight obsession isn't something we have to participate in if we don't want to). So in an effort to think about my own body in a more positive way this year, here are some body-positive, breastfeeding-positive new year resolutions you can consider, without feeling like you have to jump on the join-the-gym-change-your-body train.
Don't diet! According to

KellyMom

, "Studies have shown that most healthy breastfeeding women maintain an abundant milk supply while taking in 1800-2200 (or more) calories per day. Consuming less than 1500-1800 calories per day (most women should stay at the high end of this range) may put your milk supply at risk, as may a sudden drop in caloric intake."

Spend two minutes every morning writing down positive body affirmations. I find that when I write something down, it sticks; this doesn't have to be an elaborate practice. Sticky notes or a spiral notebook will do just fine; no Instagram or fancy planners required. Just look at your body and remind it how great it looks, and how hard it's working.

If you want to exercise more,

MommaStrong

is a great, body-positive way to work on your muscle tone while being kind to your body, especially if you're still healing postpartum. Don't overdo it, and remember, your body is working hard right now to feed your baby and heal! It's doing exactly what it needs to do.

Treat yourself to lactation cookies! These can help milk production, and hey, any new year's resolution that is cookie-positive is a good one in my book.

When you see another mom badmouthing her body, pass on the kindness you're (hopefully!) giving yourself, and remind her of her beauty, strength, and badassery. No diet talk among friends, please!  And hey, while we're at it about not letting friends badmouth friends, maybe we should also resolve to not shame each other's breastfeeding journeys if they don't all look alike; every body is different, and every body can do different things. Some will have no supply issues, others will struggle, and the length and heck, even the amount of breastfeeding we do is so reliant on so many other factors in life that being anything less than positive to ourselves and each other is anything but helpful. So let's resolve that this year is the year we only build up, not tear down. 
Happy new year, mamas. You got this.