Holidays And Hormones
Written by Candace Inge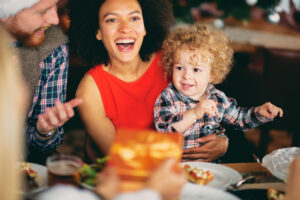 The holidays are fast approaching and as you prepare for them it is important to remember what you and your baby are comfortable with. You do not have to host the entire family for a gathering when you have a two week old, two month old, or even a two year old at home, unless you want to. Be mindful of your comfort level and life will be a lot easier over the holiday season. 
It is important to have discussions with your partner about what you are comfortable with. Personally, my husband and I talked about these things while dating, then again once we got married, and now we have had that conversation again now that our baby is due in just a few weeks. It is ok that life changes us and maybe you no longer want to make the four hour drive to Grandma's house to spend Thanksgiving with your twenty closest family members and only two bathrooms. It is important to have the tough conversations surrounding holidays and family traditions with an open mind. 
Perhaps you are considering starting your own traditions. Maybe you both are fine with the traditions you put in place before having children. You may be 'fly by the seat of your pants' people and will change the plans year to year accordingly and that is fine too. The most important thing is that you are comfortable enough to still be able to take care of yourself and your baby. 
There have been countless stories through the years of moms who's milk dried up when they were out of town because they were so stressed by the situation they were in. You do not have to put yourself in that situation. The holidays are meant to be enjoyed. This is not to say your crazy uncle won't have too much egg-nog and start telling your embarrassing childhood stories, after all, every family has that one relative. 
Some holiday mental health hacks can be as simple as having a place you can escape to. Be sure to allow yourself time to take a walk, be alone in your room for quiet time with your spouse and baby, or whatever it is that helps you keep your sanity. Listen to yourself and help your spouse understand your cues for when you have had enough. Although they may be enjoying the seventh round of Yahtzee with their family in a five hour time period, you may be tired and ready for bed, or ready to go home. Helping your spouse understand your limits before a holiday gathering will be beneficial to you both. No one wants to have the conversation that it is time to go now, it is much easier if you can give the look, code word, or know beforehand, you are not staying past a certain time. 
When you politely excuse yourself for the evening, remember, not everyone will be sympathetic or understanding of you being tired from cluster feeding all day. Not everyone parents the way you do and may not understand where you are coming from. That is ok. You do not need to make excuses. A simple "thank you for having us" is all you need. 
Happy Holiday Season!