A Breastfeeding Mom's List of Thankfulness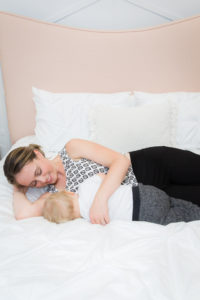 While I may not be breastfeeding at the moment, I remember when I was, and likewise I remember all the things that made breastfeeding easier for me.  As we head into the season of mindful thankfulness (though I'd argue that should be a year-round activity!) I thought I'd share some of the things I remember being so, so thankful for in the midst of my breastfeeding time.
Give me your lactation cookies, your avocado toast, your chocolate-covered pretzels yearning to be freely munched on.  More than anything, I struggled with feeding myself in the midst of trying to get everything else done around the house and work, and a dear friend sent me a whole box of snacks in an effort to get me eating more.  I am forever grateful for that box and the reminder of how loved and supported I was (and still am).  Also, snacks are just the best.
Podcasts to entertain myself while pumping. I'd only ever listened to a couple podcasts prior to my breastfeeding experience, but once I was stuck in that rocking chair for 20-30 minutes per pumping session, I made it my mission to up my podcast count.  I'm so thankful that I did, because I've been hooked ever since.  (Current favorite: The Baby-Sitters Club Club)
Those little snuffly breastfeeding baby sounds. Nuff said.
Clean pajamas in the laundry. In the midst of long days and longer nights, realizing there's warm, clean pajamas in the dryer is a balm to the soul before snuggling into bed.  Bonus if someone other than you does that laundry, btw.  You are feeding a baby with your body, other people can clean up life's messes.
Judgment-free friends who will let you cry and encourage you when you're struggling, and maybe don't love breastfeeding the way you feel you're supposed to.
Building off of that last one above, other women in general — women who were willing to tell their stories of struggle online, women who wrote poetry (Hollie McNish!), women who wrote blog posts. I was so thankful that if I chose, I could find stories of women feeling the same emotions I felt, who struggled the same ways.  Communities of women are such powerful things, and during my breastfeeding journey I was so thankful to be able to connect with them.  What a time to be alive.  Yay Internets.
Sleeeeeeeeeeeeep.
Yep.  I struggled with breastfeeding and supplementing meant my baby got the nutrition she needed to grow and stay alive.  I'm thankful for it, and again, to live in such times, and I'm thankful to have the access to what I and my baby needed.
More than anything, looking over my list of things I was most thankful for, I see a theme of support run through it like a ribbon.  However you feed your baby — and it may change throughout your journey — know that I support you.  You're doing great, mamas.  I'm thankful we can support each other in all of this, together.