A Sick Day For Mama McGee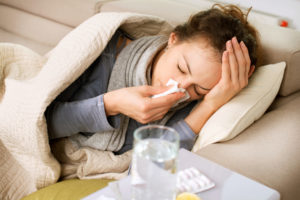 It's fall!  The most magical time of the year…a time for squash and cinnamon and s'mores…and sickness.
Dangiiiiiiit.
So, in honor of this ~most magical time~ I'm offering you this list of TEN activities you can enjoy when you're sick and at home parenting a little one at the same (gloriously fun!) time:
Tea Party — this is like a regular tea party, but with that Breathe Easy peppermint tea sitting in the back of your tea cabinet (you all…have tea cabinets right? If you don't have enough tea in your house to fill at least one cabinet, how are you living life to the fullest?). The benefit here is that they're generally caffeine free, so sharing is easy.
Band-Aid Application — what toddler doesn't like carefully covering their parent in Finding Nemo band-aids?  This will probably buy you like a good ten to fifteen minutes of laying on the couch, and…okay, probably the same amount of time cringing as you peel those Finding Nemo band-aids off your skin. But sometimes we have to pay a price for the rest we get.
Trading Bathtime Places — I'll admit a huge reason we bought the slanted rickety-but-charming house we did was because of the claw-foot tub in the upstairs bathroom. See if you can convince your little one to play Mama and give YOU a bath (aka, take a bath and insist they help fill the tub and "help" by giving you their rubber ducky toys).
Let's Pretend We're Sleeping — this game is great but never lasts long enough.
Let's Pretend Mama's Dead — alas, this was not a hit.
Let's Pretend We are Quiet Little Mice — cute, quiet, may involve crawling around on the ground more than you'd hoped though.
The Couch Is Our Boat — this went on…way longer than planned, so that was great! The couch got loaded with the pretend food, all the stuffed bunnies, and we became Maui and Moana on their journey to restore the heart of Te Fiti.  The downside is that this game is still going on.  But it's not the worst. I just can't sit on the

couch

boat without being referred to as Moana (or Hei Hei).
Paint with Water — Fun art activity with very little mess (or at least, water mess isn't tooooo bad).
Puzzles — A game I can play from the couch if I pull the coffeetable a little closer.
Netflix Netflix Netflix — Because let's be real, screentime schmeentime, a sick day is a reasonable reason to ditch the limits. You're gonna make it through…just lay down on the

couch

boat…there there. It's hard being a parent when you're not feeling your best (hell, it's hard being a parent when you feel like you're fit and clear enough to run a marathon) but whatever you choose to do to pass the time, know that you're going to make it through. Be kind to yourself. And maybe go make another cup of tea.