5 Things They Don't Tell You About Having a Ginger Kid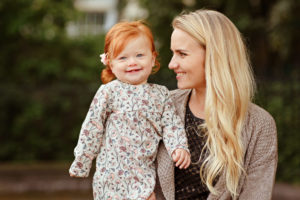 My daughter has a mop of red wavy hair.  It's an adorable delight.  But there have been some surprises along the way with being the mama to a ginger.  If you've got a brand new baby ginger human, I've got some stuff to share with you from my almost-three-years of experience (I'm clearly an expert now, where's my certificate?):
People will want to touch your child's hair constantly. I never thought strangers would reach out and stroke my child's hair in Target, but there you go.  People are unfortunately not always aware of bodily boundaries!  On the "bright" side, this has given my husband and I a chance to slowly but consistently start talking with our daughter about how she has the right to say, "Please don't touch my hair" or simple, "No thank you, please don't touch me" to people when they try to touch her without her permission.  I imagine as she gets older the attention and unwanted moves will change rather than stop, so I'm chalking this up to a straight opportunity to harp on her bodily autonomy, inappropriate behavior from other people, and consent.  (I'll be honest though, sometimes the checkout ladies at Target get a pass.  They adore her.)
You can't always tell if your child is simply flushed or if they're burning in the sun. Her skin's pink undertone gets very, very pink very, very fast outside when it's warm, and it's impossible to tell whether that flush on her cheeks is from all the fun she's having, or the sun slowly baking her to a crisp!  I've probably ended some fun activities too early out of concern, only to see that when she cooled off, it was fine, and there was nary a burn to be found.  Sorry kid.  Still, better safe than sorry when I can't tell.  And speaking of sunburning, you will go through a can of spray sunblock in a single weekend.  Why am I not buying stock in sunblock?!  I often end up applying it twice in one trip to the park (because see above for not being sure if she's burning or pinking).  And it's not even like we're spending all day outside, since the ginger toddler's peak hours are in the early morning, with long shade/indoor breaks in the afternoon, before the sun stars to set and it's safe to step foot outside again.
You get the best Halloween character costumes without having to do much. IE, you can be pretty lazy if you wanna.  Think of all the redheaded, amazing characters she can choose to be (or I can choose for her to be, for now): Little Orphan Annie, Ariel, Anne of Green Gables, probably a whole host of other A-named characters because red hair clearly equals an A-name…oh wait, there's Trixie from the Knuffle Bunny books!  Jessie the cowgirl from Toy Story!  And Ponyo!
You might become a little vain about your ginger child's ginger status and be constantly pleased as punch that your child is that kind of cute. I try to keep it in check, but there are just times when I can't help but stare googly-eyed at her adorableness.  But then, all parents do that, right?  I'm giving myself a pass!
Similar to, say, Volkswagon culture, if you see another parent of a ginger out in the wild, you're obligated to give the nod at the park. And now that you've read this article, you can even go further and have a whole conversation.  After all, you've got a bunch of things you're sure to have in common to talk about!