Mamas who rock it: Keri's Breastfeeding Story
Keri is a full–time working mom of three sons under three-years-old. After struggling to get her breastfeeding relationship with her first son off of the ground, she worked to find a way to increase her supply of milk and reach her goal of 12 months. She recently added two identical twin boys to the family and was introduced to an entirely new challenge.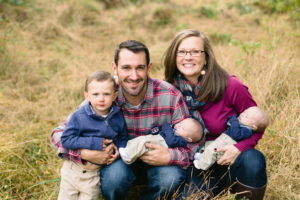 Tell us a little about your breastfeeding journey with Jackson.
I was wholly unprepared for the emotional journey of breastfeeding with my first son. It did not come easy and I worried constantly. I had the typical anxiety associated with whether I was producing enough milk. I had every resource at my disposal and used them all. I saw a lactation consultant and went to weekly LLL meetings and peer support groups. But I was still a mess and my husband could never do right when it came to feeding Jackson. He'd give Jackson a bottle five minutes before I walked in the door or he'd wait for me but I would have pumped before coming home. In my mind, every last bottle impacted my milk supply and I needed to be in control. Looking back now that I've had twins, it's amazing to me that we survived that first year of breastfeeding and pumping for Jackson. The stress was so real and part of every moment of our lives. We made it through a year with a combination of breastfeeding, pumping, giving a bottle and mixing in some formula. We needed it all and I am extremely proud that we figured it out and made it to our year goal. Allowing myself to accept formula transformed our journey. I let some of the self-doubt go and trusted that I was doing the absolute best I could do even if I was not producing enough milk. Once I realized this, the journey became much easier. I was not less of a mom because I couldn't give my son purely breast milk. By three months I was making enough milk and we were done supplementing. I do know that introducing formula could be a slippery slope for some, but I knew what my end goal was and it took working with every resource I could find—including formula.
So, surprise twins—that's crazy! How was your pregnancy and birth?
I was never a woman who loved being pregnant. I was uncomfortable, extremely tired, and continuously nauseous. They missed the twins at my viability scan at 10 weeks, but saw them at the NT scan at 13. I work a high stress job and that coupled with pregnancy made for a very long seven months. Finding out I was pregnant with twins provided a lot of answers to how awful I was feeling (it was considerably worse than with my first child). Emotionally, my husband and I took our time letting the news of identical twins settle in and we went through a range of emotions (pure shock, silent inner retreat, accepting our new reality, excitement, fear, and eventual joy). All that aside, I wouldn't trade the experience for the world.
I had a very strong sense of what I wanted with their birth and was not afraid to seek out possibilities. I had a non-medicated midwife and doula supported birth with my first son and I was told the day of the scan that wouldn't be an option this time. But twins did not impact my resolve to have a birth plan. It just added a level of complexity and new risks. The boys were Monochorionic-diamniotic (or mono-di) meaning they were in separate amniotic sacs but shared a placenta. Twin to twin transfusion, when the blood flows disproportionately from the placenta to the babies, was a scary possibility. I took the time to educate myself and understand the risks. It was hard because we were immediately referred to a high–risk OB practice and advised to transition away from our midwife and it was simply a different type of care. I wanted to do everything possible to have a natural birth but realized early that I needed to compromise some of my plans to be safe. For example, I would get an epidural in the case of an emergency C-section if it I meant I could still have a chance of a vaginal birth. I knew I had to stop envisioning a dimly lit delivery room with just my husband and doula and instead prepare myself for an operating room with 3 teams of doctors. I was willing to be induced for a controlled birth versus a scheduled C-section. 
I was told early on I would be induced at 34 weeks because I was carrying identical twins and had a history of early delivery, but C-section versus vaginal birth was still undecided. I brought it up at every appointment and pushed my doctors to consider my desires. My biggest concern was delivering one baby then having the placenta detach while still supporting the other baby and needing a C-section to deliver him. I was told my type of delivery depended on the on call doctor and what risks they were willing to take.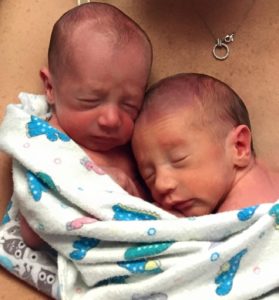 I went into labor at 32 weeks and arrived at the hospital 4 centimeters dilated. We went through a futile exercise of trying to stop my labor with magnesium, but I continued to dilate. Four hours later, the doctor walked into the triage area before wheeling me into the operating room and said "It's on your chart that your desire is to have a vaginal birth. Let's go for it. I am prepared for the complications and will adjust on the fly. You will do wonderfully." I gave birth vaginally in the operating room to two beautiful boys with an epidural (in case we needed to have an emergency C-section).
I could not have been happier how the boys arrived! I was blessed to have a great doctor on call, but I also give myself a lot of credit for taking the time to educate myself on my options. Honestly, from the beginning it was just assumed that I'd have a C-section. That wasn't okay with me unless it was necessary—I was all about the safety of my babies—but educating myself on my options and then communicating my desires helped me achieve the best possible outcome.
I assume the boys had to spend some time in the NICU. What was your feeding/pumping schedule like in the beginning?
Twins in the NICU = a continuously pumping mom. It was nice to have the experience with Jackson to pull from. I already knew how to pump but I gathered so much education, experience, and confidence from my breastfeeding journey with Jackson that I knew we would figure everything out and be okay. 
My pumping routine started three hours after birth and has continued every day since. It was EXTREMELY daunting to know that I would be pumping for 12 months. I'd need to be pumping during their NICU stay, when they arrived home to keep my supply up, and when I went back to work once they were five months old. While the boys were in the NICU for a month I pumped every two hours. I had 12 alarms set on my phone. When the boys came home, my routine was pumping, breastfeeding Owen, breastfeeding Russell, bottle feeding both, and then pumping again on a two hour rotation. On a good rotation, I'd have 20 minutes max of free time before I started it all over. It was exhausting. Given their size, breastfeeding was a challenge and we had to work to have productive sessions (also the reason for the bottles and pumping). We used nipple shields in the beginning and then were able to wean off of them. We made it though. We turned a corner around three months and now when I am home they are breastfeed and we supplement just twice a day with a bottle. At eight months, they still take 7 bottles a day in addition to solids because of their size.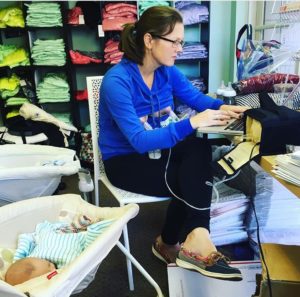 When did you go back to work?
I went back to work after 5 months. My maternity leave flew by and was spent mostly in bed or on the sofa because of the continuous feeding regimen. It was a very different experience from my first son.
What is the schedule like now? Where do you pump during the day? How do things work with your employer?
I work in public accounting and my company ranks very high for best workplace for mothers. I cannot complain about our benefits. If I'm in the office there are several mother's rooms with reclining chairs, sinks, and refrigerators. I also have regular access to a hospital grade Medela pump in the mother's room. I know, amazing, right?
My schedule is pretty consistent.
Pump #1 – In the middle of the night. One difference with the twins is that I didn't set an alarm once I was producing milk consistently just to get up to pump. I learned that my sleep is just as important to the sanity of our house as an extra bottle in the freezer. This pumping session is just a bonus session whenever I (or my full breasts) wake up.
Pump #2 – 5:15 a.m. – Wake up and pump immediately.
Pump #3 – 7:30 a.m. – Drive to work and pump while I'm driving.
Pump #4 – 9:30 a.m. – Pump in mother's room.
Pump #5 – Noon – Pump in mother's room.
Pump #6 – 3:00 p.m. – Pump in mother's room.
Pump #7 – Between 4:30 and 6:00 p.m. – Drive home and pump.
Feeding #8 – Between 8:00 and 9:00 p.m. – Breastfeed the boys before bed.
Do you have a freezer stash or are you pumping every day to prepare for the next day?
I am a "just in time" producer. The boys receive roughly 30 ounces of breast milk and 18 ounces of formula a day. I breastfeed all weekend, but I also pump (once at night and first thing in the morning) in case I am short during the week. I do keep a small stash in the freezer (four days worth) that I can tap into if necessary.
What's the hardest part of pumping for you?
Knowing that I was starting on day 1 and not day 240 with the boys was tough. Pumping is probably the single biggest commitment I've ever made (except for my marriage). I've pumped in bed, in the car, sitting between two men on an airplane, on the concourse of a convention center for work, facing the wall at an airport, on a train to New York, and at countless friends' houses. The list could go on. I have a pump next to my bed and one in the car. It is a priority that not everyone always understands, but that's okay. It's my reality. I don't have an oversupply of milk and I am thankful that breast pumps exist.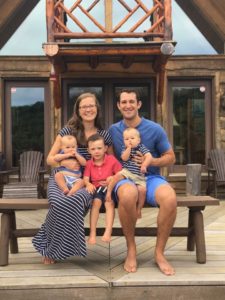 Do you have any advice for other moms whose breastfeeding journey is proving to be more difficult than anticipated?
Like anything in motherhood, you need to pick what's important to you. If providing your baby with breastmilk is important to you, be determined and find a way to make it work. Don't give up!! Keep your baby on the breast or keep pumping until you can work with experts to find a solution. There are resources everywhere—you just need to find them. I realized first–hand how tough that is when there are postpartum hormones involved. If you're still pregnant, take the time now to save contact numbers and resources in your phone. Jackson's pediatrician was also an IBCLC, which proved to be tremendously helpful. Surround yourself with others who support what you are trying to accomplish and try as hard as you can to relax. Stress can affect everything—including your milk supply. You will find a solution that works for you. It may not look like what you see online or in magazines—but does anything in motherhood ever happen exactly as you envisioned it?

************
Do you have a breastfeeding story you'd like to share? Send it our way for a chance to be featured on our blog! You can send it directly to ocean@latchedmama.com.